Trophy Whitetail Hunting in Buffalo County
Buffalo County is known as part of the Driftless area, with extremely varied topography consisting of high ridges, long narrow valleys, and areas of steeply sloping land in between. Bluffs rise above the river bottoms by 500 feet in some areas. Only a small corridor along the Mississippi River was ever glaciated, where terraces have been formed from glacial melt water deposits. The lack of glaciers in Buffalo County, Wisconsin has left an abundance of minerals in the farm land. In addition to the minerals, the topography has made it challenging for hunters for consistent wind, This is why Buffalo County has been famous for those rack growing monster trophy whitetails.
Typical Day, Seasons, Dates, License Info and Rates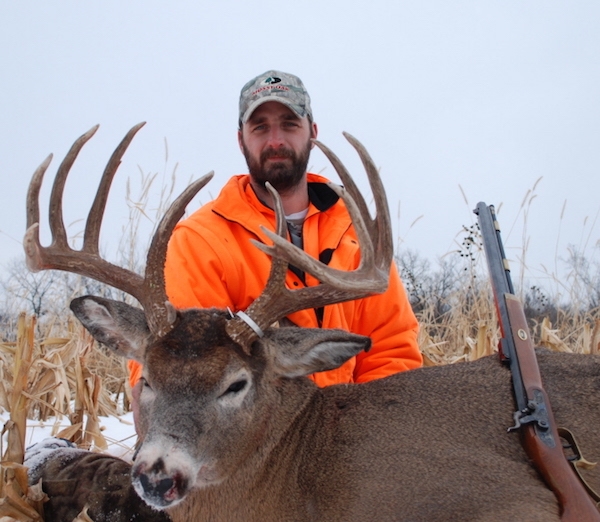 Typical Day
Starts by waking up to that good old alarm clock annoying you like crazy and wondering why you have to get up so early. A quick scent free shower wakes you up and gets you motivated to get out to the deer stand, but first you can mow down a continental breakfast. Startled by the knock of the hunting guide on the door, you ready yourself for the deep woods of Buffalo County. The guide hands you your sack lunch for the day filled with Prime Rib and Lobster…Come on! You didn't think that was going to really happen, did you? Actually, we provide some great sandwiches, snack, and drink.
Watch our Hunts Our Trail Cams Clients Successful Hunts
The guide will take you to your stand or very close to it. Then you wait for that crunching of leaves coming to you, your heart starts pounding, your hands start trembling and find out it's only a squirrel finding its first nut of the day. Now that you're prepared and trying to calm down, you wait for that buck of a lifetime. If you don't see or harvest one you would like to take, your guide picks you up at the end of your hunt. You then head back to a great meal provided by our head chef or we go out on the town for some great dining.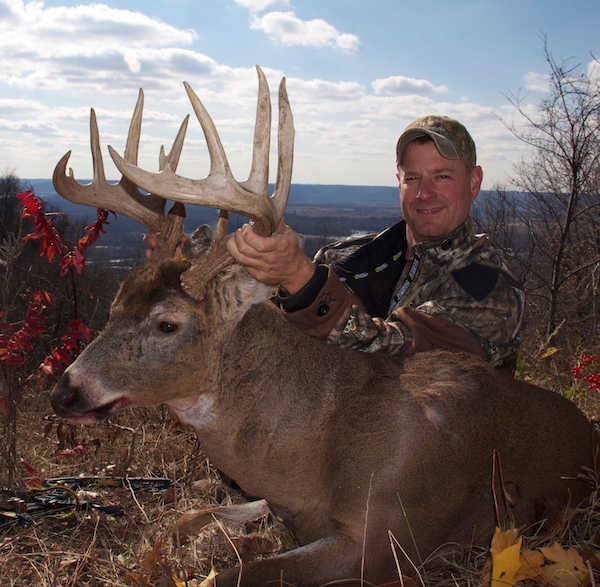 Whitetail Hunting Information
Our WI Archery season typically runs from the third weekend in September through the second weekend in November with the Rut starting around the end of October. Our Rifle season starts the weekend before Thanksgiving and normally is 9 days long. Our Muzzleloader season starts the day after Rifle season.
However
Rutting Ridge Outfitter hunts don't start til October 20 and end about the week before gun season. This lets the pressure on all the land to be kept very low. All hunts are all days sits. We want you to be in your stand when that buck of a lifetime is chasing that doe right by you, and you are able to harvest that dream buck. You will be shocked at the movement and kills that happen midday.
During the rifle season, typically the first two days is stand hunting only and then we start making pushes for you the next three days. Once the big bucks get pressured a little bit, they don't like to move as much. So we do some pushes and try and send one in your direction.
Hunting license is over-the-counter. You can purchase your license on the phone and on the internet: Wisconsin DNR. Check with the Wisconsin DNR for the latest season dates, fees and hunting rules. You may have your license mailed to you or to us. We will hold license for you until you arrive. First time hunters to Wisconsin is only $79 vs $160.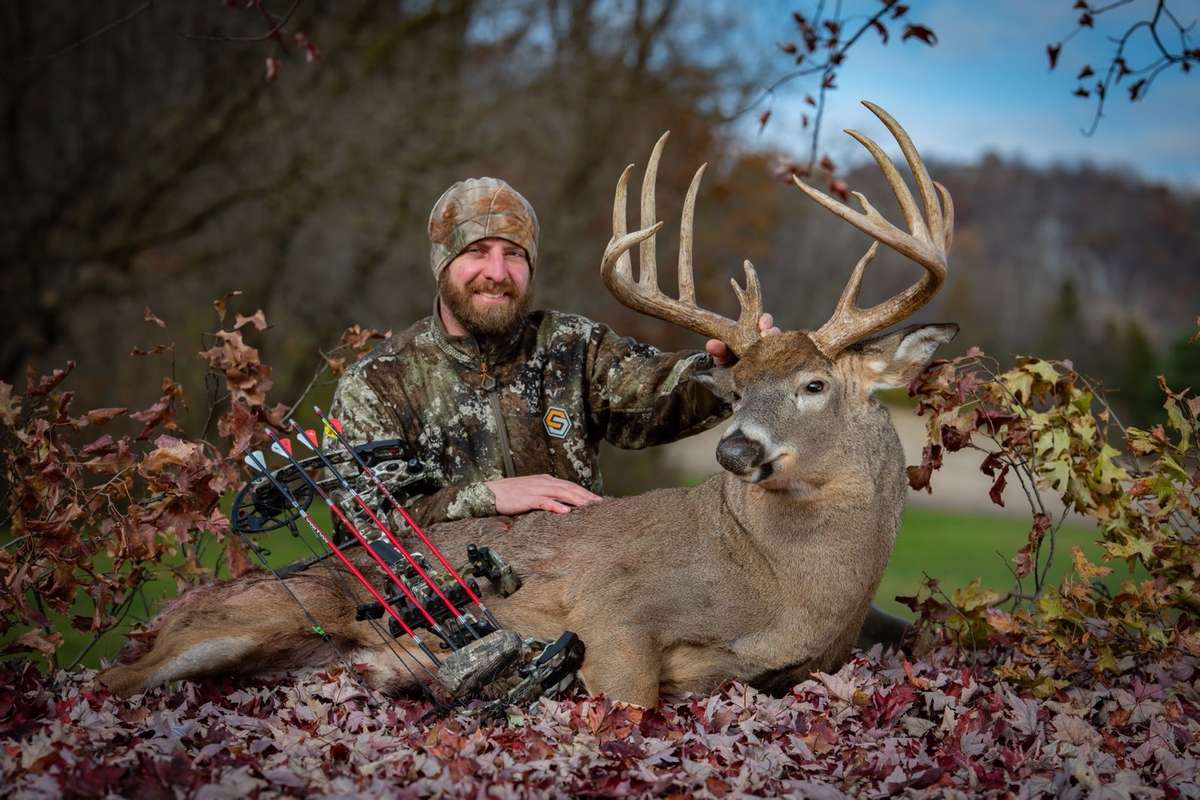 Rutting Ridge Whitetail Rates
Our "All-Inclusive" and "The Bone Collector Hunt" Whitetail Hunts were created for the sole purpose of providing the hunter with a high quality hunting experience. All of the Guides are hunters and know the habits and patterns of the deer and know what it takes to get you close enough for that shot of a lifetime.
Standard
3 or 5 Days of hunting with either Muzzleloader, Rifle or Archery seasons. Hunt does not include meals and Lodging.
3 Days - $2900
5 Days - $3250
All Inclusive
3 or 5 Days of hunting with either Muzzleloader, Rifle or Archery seasons. Guides take you to your stand for that chance of lifetime. Lodging and Meals provided. If you don't harvest a whitetail come back or stay a couple extra days to continue your quest.
3 Days - $3450
5 Days - $3950
Deposits are non-refundable but can be transfered to the next year.
NEW! "The Bone Collector Hunt"
Hunt October/ November to you kill with direction of one our guides. Bone Collector hunts don't start until around OCT 22th and ends the week before rifle season. THAT COULD BE 24 DAYS PLUS OF HUNTING!!!! All stands placed and guide will advise you of your best stand for the day. Wisconsin laws apply. Limited to 1 buck with bow and 1 with gun. Lodging provided. Meals provided when other hunters are in camp and camp cook is on duty. HUNT ALMOST ALL SEASON AND CHEAPER THAN HAVING YOUR OWN LEASE IN BUFFALO COUNTY!
Cost - $4950 for archery only. Adding rifle or muzzleloader to this hunt is additional $1500 each.
License - First time hunters to Wisconsin is only $79 vs $160
Antler Restriction on 130"-140" Farms. 130" Minimum on all 8pt bucks, and on all other bucks there is 140" minimum. Bucks shot under the minimum are subject to a $750 penalty. NO size restrictions if buck is 4.5 year old or better.
Antler Restriction

on 150" FARMS We also have 150" farms that are subject to $1500 penalty. To help you understand how to age bucks on the hoof we have provided this video. Click on video for full view...
Down Payments - All our whitetail hunts require a 50% down payment. All hunts require the balance be paid 60 days prior to the hunt.Deposits are non-refundable but can be transfered to the next year.

LOOKING FOR LAND FOR SALE???
BUFFALO COUNTY HUNTING LAND??
Jarrad is a licensed Real Estate Agent in WI. Let Jarrad show you your next dream property. Jarrad was born and raised in Buffalo County, WI so he know what good land looks like. This is why he has excelled in having his clients harvest big bucks time after time.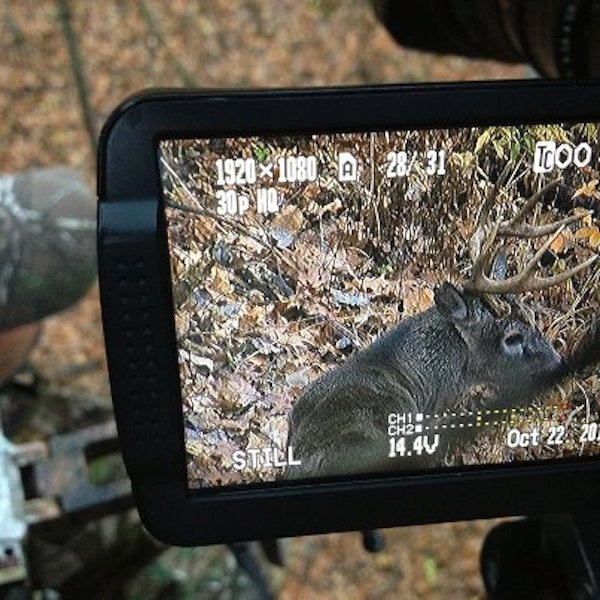 Video Recording
Rutting Ridge Outfitters, LLC also offers video recording of your hunt. Let us video your hunt and to capture your Trophy Buck of a lifetime. See our Video page of samples of hunts we have done. Filming rate is $250/per day.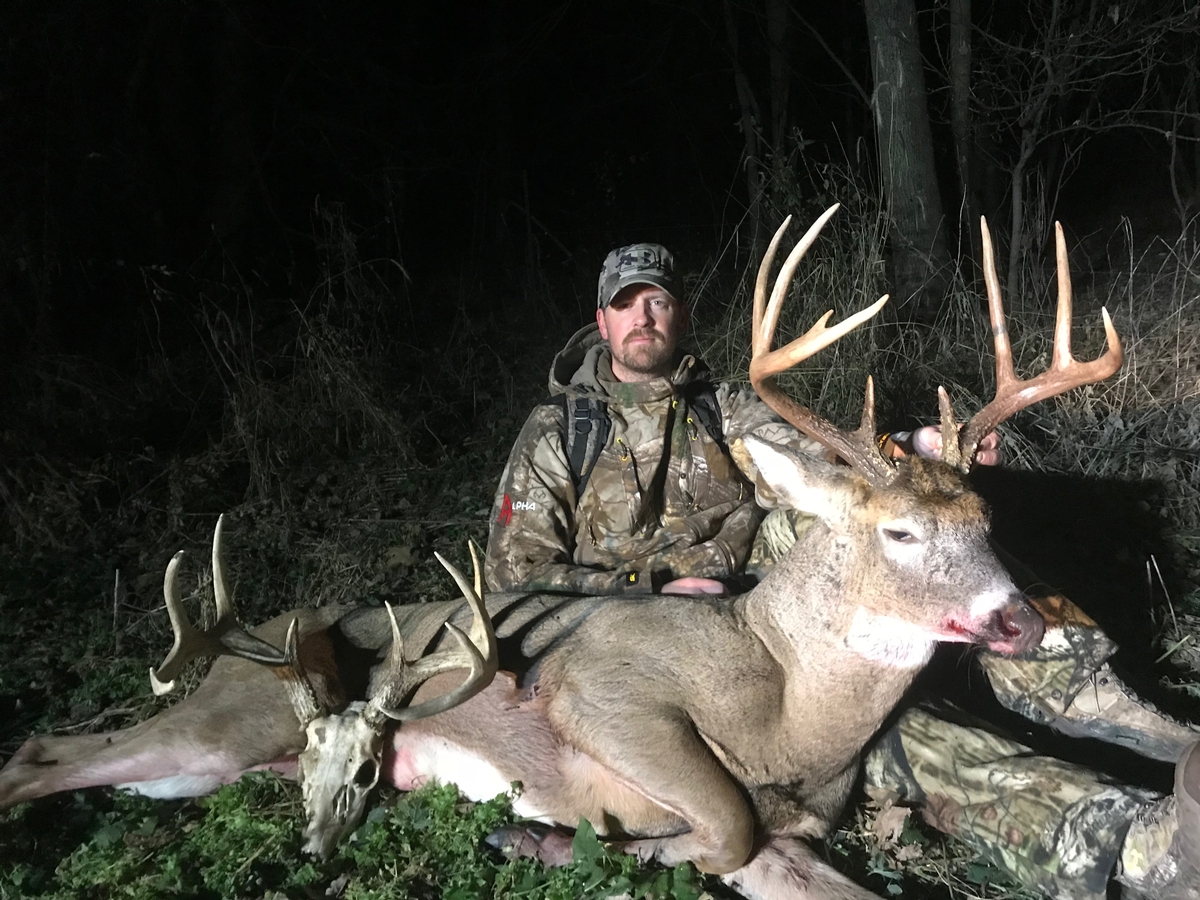 Jeremy's Double find in Buffalo County
Client Testimonials & Fishing Reports
Read what our clients have to say about Rutting Ridge Outfitters and their experiences. Or stay tuned to our field and fishing reports to see what the action is and possibly learn a thing or two about with tips from our pro-staff.
BUFFALO COUNTY RRO HALL OF FAME Gallery