Ice Fishing
"They're bigger, they're hungry, and they're full of little sunfish"
"Perch are going to take over the river"
Remember the days of packing for two days, getting on a train, and heading west to North Dakota for the crack at that 14" plus Perch? From late winter into early spring, thousands of Midwest ice anglers seeking jumbo yellow perch have traditionally traveled to lakes of northern Minnesota, North Dakota, South Dakota, or the big bays of the Great Lakes.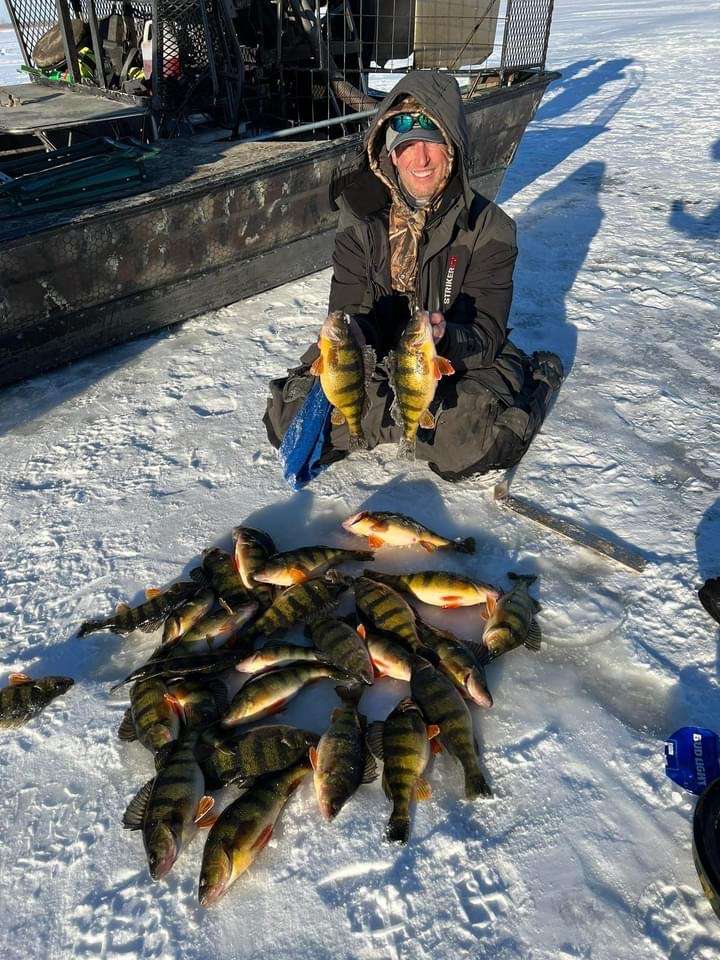 Guided Ice Fishing Trips
WAIT NO LONGER! Come visit Rutting Ridge Outfitters, based out of Alma, WI on Pool 4 of the Mississippi River. Captain Jarrad and Captain Jordan Fluekiger, third and fourth generations guides will take you on the Mississippi River for a shot at that 14"+ perch.
Today, quietly vying for the traveling perch anglers' attention is the year-round open season stretch of the Mississippi River from the north end of Lake Pepin at Red Wing, Minn., running about 230 miles downstream to Bellevue, Iowa – and right along the western edge of Wisconsin.
"Twenty years ago, if you caught perch (in the river) it was 'a' perch and it was notable," said Dave Heath, Wisconsin DNR fish biologist at La Crosse. "Now, perch are up everywhere. As far as we know these are the highest perch numbers we've had on the Mississippi River."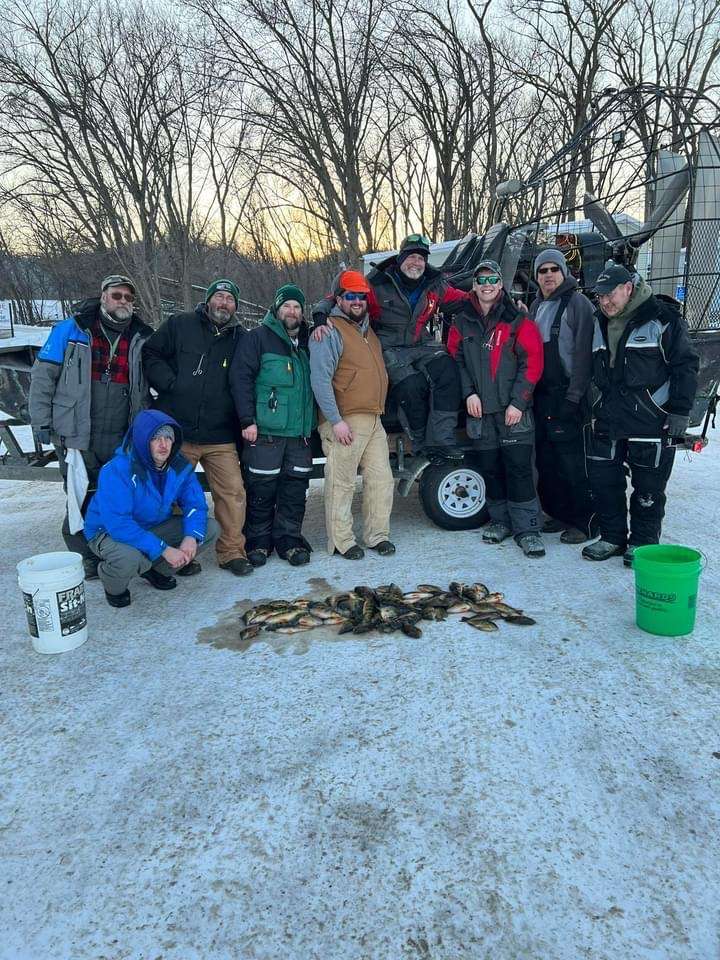 What To Bring Ice Fishing?
Copy of MN or WI Fishing License
Food & Drinks
Bucket to put your fish in & Sit on
Appropriate Clothing for the weather
It is encouraged to bring your flasher if you have one
What is Included?
Heated Shacks if needed
Best Garmin Livescopes and Electrics to help find the fish
Live Bait, Rods & Tackle
Airboats to get to hard-to-reach areas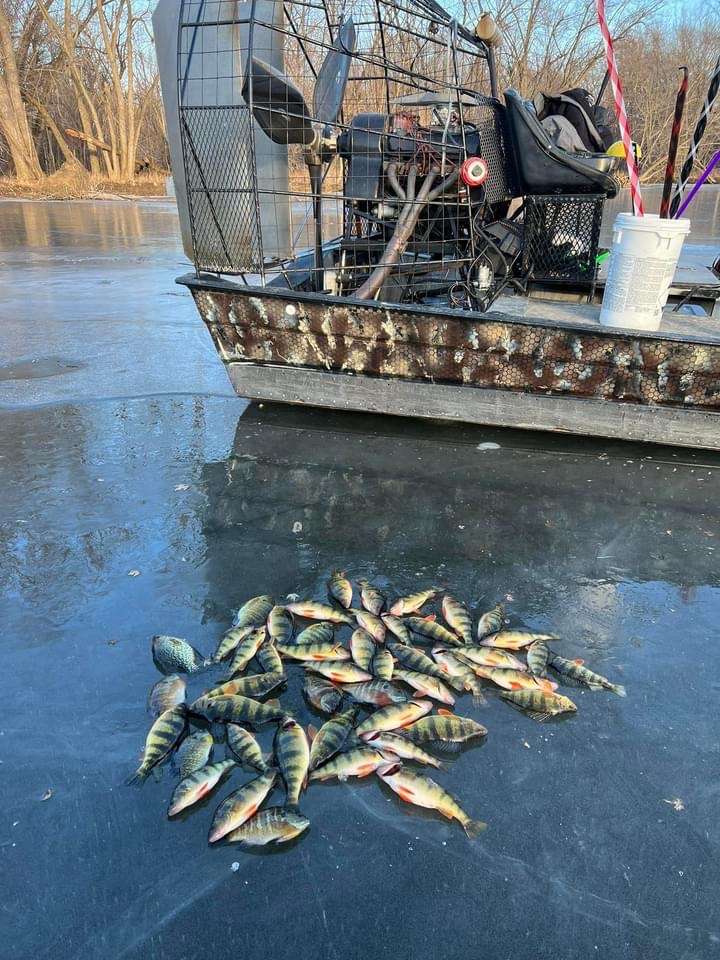 Why Ice Fish With Us?
At Rutting Ridge Outfitters, our licensed guides are experienced anglers who not only put you on the perch but also know that you will receive an educational experience you will never forget. Captain Jarrad and Captain Jordan Fluekiger, third and fourth generations guides will take you on the Mississippi River for a shot at that 14"+ perch. We try to maintain smaller group sizes to allow Captain Jarrad and Captain Jordan to be more mobile on the ice.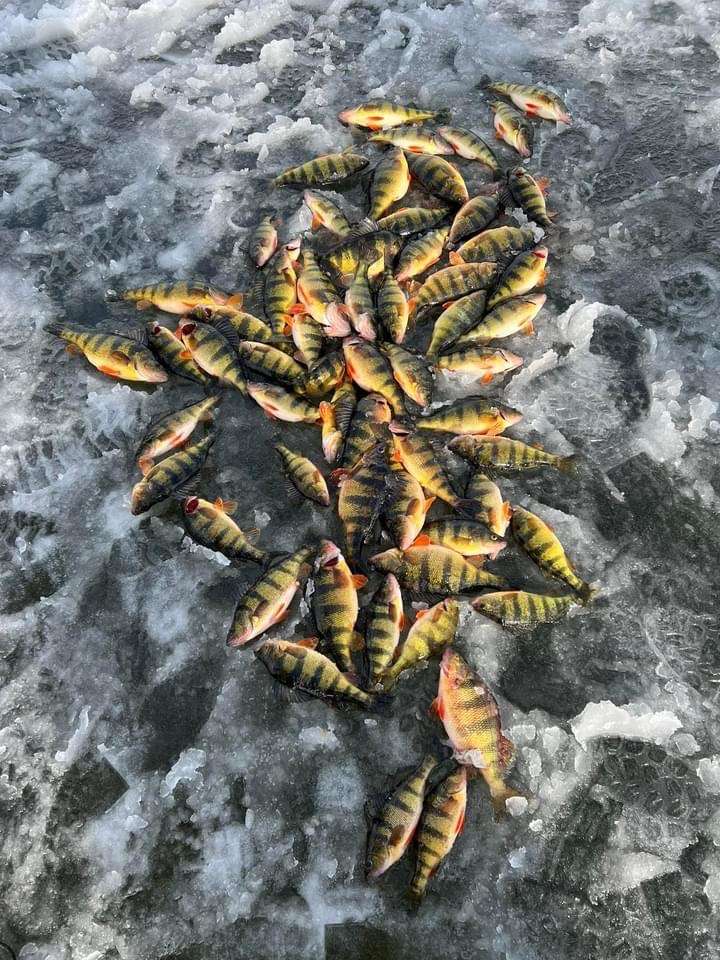 Ice Fishing Rates
Rutting Ridge Ice Fishing Rates:
$220 -8 hour weekend trip (Friday, Saturday, or Sunday)
$200- 8 hour weekday trip (Monday, Tuesday, Wednesday, Thursday)
DISCOUNTS
BOOK MULTIPLE DAYS AND RECEIVE WEEKDAY RATE OF $200
Hotel Rates:
Cabin Rates:
Lodging Details
A valid credit card (Visa or MasterCard) is required at the time of reservation. Your card will not be charged until your scheduled reservation. At that time you can charge the card on file, use a different card or pay by check or cash. If you fail to show for your reservation or any damage is done to the cabins or property the card on file will be charged accordingly.
The cancellation policy is 14 days for lodges. 48 hours for motel rooms.
If cancellations occur within 48 hours of the date booked full price will be charged for cancellation.
No refund for early departure.
Due to allergic reactions by other guests, we regret no pets are allowed.
HILLCREST MOTEL and the RUTTING RIDGE MOTEL are smoke-free facilities, there are no exceptions.